October 2nd, 2015
Knox Carpets Kilsyth
Here at Knox Carpets, we pride ourselves on low-priced quality flooring solutions of all shapes and sorts. We take our trade pretty seriously, but we do like to have a bit of fun as a team.
When we explore different types of flooring solutions, we do a lot of research. We need to get out there in the factories and distribution centers, and get our hands on the different rugs and carpets. It's the only way that we'll understand the different flooring option's benefits, and equally as important– why they'll work the best for you. So we look into the textiles, the manufacturing process, every ingredient that goes into your flooring. It doesn't matter if it's hardwood, vinyl, bamboo or carpet– we want to be able to reel off to you the elements that go into each, just like the ingredients in your favorite candy bar or snack.
That's pretty intensive work. We love it and we're extremely invested so no complaints. In fact, when it comes time for us to go ahead and let loose, we still turn to carpets. There are folks out there who aren't quite as…traditional…one might say, about what makes a beautiful carpet. Here are some of our favorites:
First up is Tapistongs. You know the amazingly luxurious feeling of digging your toes into soft and comfortable carpets? Tapistongs definitely does. The rug is not in one piece, instead- it has four different footprints where two matching pairs of slippers fit perfectly. Great idea in theory. But why not just have this degree of comfort and quality throughout the entirety of your home or business?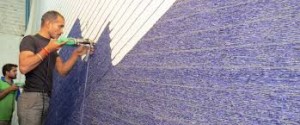 Educational carpets are another fun market to explore in the industry. Any game that you can play out on the blacktop of your local playground, can be drawn out on one of many educational carpets. Our favorite? The hopscotch tournament. The kids can play to their hearts content. When they're worn out? The rug is comfortable to lay down on and take a long nap.
Carpets are also increasing in height. It's not just hairstyles coming back from the eighties that are getting taller and taller, the fibers of rugs are also lengthening. These styles range from comical to downright outrageous. After all, you can't really sit in the middle of a rug that's half of a meter high. You can see some of our favorites here.
Another unique genre that has roots in the 1900s? fluffy, psychedelic rugs. These albeit, are a little bit more comfortable, but they're also very entertaining aesthetically. Bright and bold colors are abound in these rugs, so they do compliment your color scheme no matter what it may be. One artist in particular decided to combine his love of both the traditional and the unique. He deconstructed beautiful old Persian rugs, into new psychedelic works of art.
Looking at these different types of rugs bring out the creative side in us. They inspire us to never stop searching for the best products out there in the carpet industry to keep our customers as satisfied as can be.